INTERNATIONAL FRIENDSHIP
On 4 June Yugra state university hosted a group of students of Peoples' Friendship University of Russia (PFUR), who were visiting Khanty-Mansiysk within the framework of the VI International IT forum

---
The students and post-graduate students from India, Columbia and African countries had a conversation with the representatives of the Institute of management and economics, and then visited a raw-hide tent where the director of the Institite of the Northern Peoples told them about the traditions and customs of the Khanty and Mansi peoples. The student philologists of the Institute of humanities, disguised in traditional costumes of the local peoples, sang the traditional songs and recited poems in the languages of the Finno-Ugric group. The guests asked questions about the traditions and religion of the peoples of Khanty and Mansi.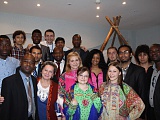 The meeting with its jokes, anecdotes, discussions and exchanging opinions in the burning issues of education and culture was interesting and useful for all the participants.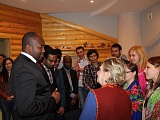 The excursion ended in our Volunteer centre where the guests had an informal meeting with the lecturers and students, who were delighted with our guests' friendliness and concurred in the necessity to conduct such events more often.