YUSU AWARDS BEST YOUTH RESEARCHERS
On June, 17 the university awarded the winners of the contest "The best students in science and research"

---
35 winners of academic olympics, contests and most remarkable participants of conferences among the students with the best academic performance applied to participate in the contest. The jury received 18 application forms in natural and technical sciences, and 17 in human sciences.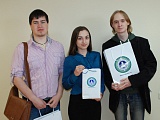 It was the first contest of this kind for the winners in human sciences: Yekaterina Usenko, the Institute of Law (1st),
Dmitry Sannikov
, the Institute of Managament and Economics (2nd), and Dmitry Kuzmin, the Institute of the Humanities (3rd).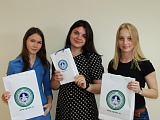 The students of the Polytechnic Institute have taken the top positions in the contest not once in the previous years. The 1st and the 2nd places went to the representatives of this institute, Anastsia Bebiya (whose achievements in science and research are marked with the President's and Governor's grants) and Lilya Atyutskaya. The third place was taken by Natalia Gafarova, the Institute of environmental management.
Our congratulations to all the winners!