International summer school: impressions and results
The first International summer school in our university is over. The students have shared their impressions

---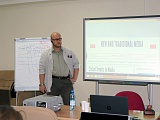 From August 18 to August 31 a group of students from Germany, Slovakia, Japan and Russia studied in our university according to a special programme worked out for them to cover the issues of oil and gas extraction, ecology, tourism, the culture of the indigenous peoples of the North and the peculiarities of the local mass media.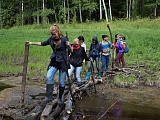 The guests visited the major educational, cultural and scientific institutions of our region's capital, as well as oil and gas sites, places of interest of Khanty-Mansiysk and the area, including the junction of the Ob and the Irtysh, the great rivers of Siberia, and had a hiking to the international scientific field station of Yugra state university in Mukhrino settlement.

The summer school was successfully organised by Yugra state university with the support of DAAD.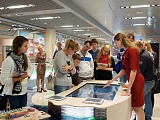 Back to their motherlands, the students study economics, politics and law in the field of energy. They mentioned the difference of Khanty-Mansiysk from other cities they'd been in Russia: "you can see that the city is prosperous". They were also amazed with the support that the science, innovation, business and tourism receive from the region. The representatives of different institutions and structures spoke about the grant programmes and opportunities in the region.

The news is provided by the International cooperation department
More news abour the school:
International summer school: Find a topic of your interest
, July 2014