STRENGTHENING TIES WITH HUNGARY
Our city and Yugra state university are developing the relations with Hungary. On 20-21 June there was an important cultural and educatonal visit to our university

---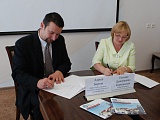 As we
announced
, the university hosted the director of Hungarian cultural, scientific and information centre in Moscow, the Councellor of the embassy of Hungary in Russia, Andras Baranyi on 20-21 June. The visit went on according to the scedule. The rector, Tatiana Karminskaya, signed the agreement of cooperation with Mr Baranyi, who came to Yugra within his official visit. Andras Baranyi noticed the warm atmosphere of our university and expressed appreciation on his visit to the area where his ethnical relatives are found. He brought the books and dictionaries as presents to our Study room of Hungarian which will help our students in studying the language.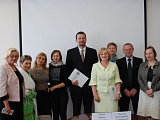 Besides the cultural bonds, the prespectives in education were discussed. Our rector spoke about
studying Hungarian in the university
and the special interest of the students of the Institute of the Humanities in this language, and about our students studuing in the universities of Budapest and Pecs. "I believe our cooperation will be mutually advantageous. In Hungary we have a special grant programme for the students who live in Finno-Ugric areas, and we'll be glad to see the students of Yugra state university for semester-long courses", - Andras Baranyi said. In return, our rector promised to provide the financial support and housing to the lecturer who would come to teach Hungarian to the youth of Yugra.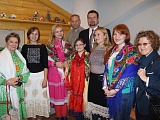 The cultural programme of the visit was very rich. The Kovacs sisters, Nori ans Judith, the most famous folk and traditional singers in Hungary, met with the students of the Institute of the Humanities and its director, Dina Gerasimova. The Kovacs sisters sang and played music for our students in the cozy Study room of Hungarian, and in their turn the students sang the songs in Hungarian, Khanty and Mansi languages. Many souvenirs were given by both sides. The climax of the meeting was singing a Hungarian folk song in chorus under the conduction of Prof. Igushev, who is now teaching Hungarian in the university.