SEEING THE NEW ACADEMIC YEAR
At the celebratory assembly the students received greetings from the rector Tatiana Karminskaya, the four vice-rectors, directors of the institutes and the important guests.

The latter (deputy governor Alexey Putin, head of the department of IT Andrey Borodin, CEO of limited liability company Northern Construction technologies Vachgan Movsisyan, and deputy director of Medical information and analytical centre Maxim Shushpanov) altogether emphasised the great meaning of Yugra state university in providing personnel for Yugra and stable growth of the region's economics.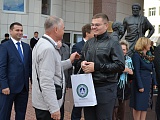 According to the tradition, the best entrants were distinguished at the ceremony. The freshmen with the highest scores in State unified examination received presents from the directors of the corresponding instutes.

Our Volunteer centre organized an introductory quest around the campus, and today most of the students received their students' cards.