Supplementary Education
Supplementary education in the university includes two educational structures:
The Institute of Supplementary and Continuing Education

Cisco Networking Academy
The Institute of Supplementary and Continuing Education

---
Sergey Kvach
Position:
Director
E-mail:
kvachss@yandex.ru
Tel:
+7 (3467) 377-000 (ext.411)

General information
The Institute was founded in 2006, and nowadays it has become the leading institution of supplementary and continuing education in our region, offering over 100 programmes of specialist training by the university and branch enterprises. The Institute developes new programmes for the clients' necessities, collects groups and provides all the conditions for studying.
The Institute suggests:
professional training and retraining
seminars and trainings on present-day issues
preparatory courses for our prospective students
Cisco Networking Academy

---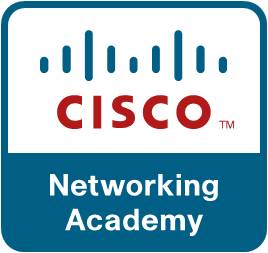 Cisco Networking Academy at the premises of Yugra State University is a platform for training of highly qualified specialists in the IT field, the staff that would make the basis of modern information economy. The Academy is founded with the support of the Committee of Information Resources at the Administration of the Governor of Khanty-Mansiysk autonomous okrug.
The net is becoming the basis for business, communication and the development of countries and personality. The equipment is becoming more sophisticated, and the need in specialists who are able to work with it is becoming more urgent. Thus introduction of network literacy is highly necessary. The tool to reach this aim is the programme of Cisco Networking Academy.
The programme started in the USA where Cisco has been working in education for a long time. Today there are as many as 11,000 educationalinstitutions with 1.9 mln graduates.

Universities, colleges, schools and social entities from 167 countries collaborate with the programme. The Academies build up their work on the princilple of cooperation between governmentalorgans, private sector and the best educatonal institutions.
High school and university students and ICT specialists may enter the Academy to developthe general knowledge in IT, technical awareness and practical skills necessary for successful work in IT industry.
Study Lab
The Academy's lab is equipped with modern network facilities to do the laboratory work. The training is conducted by 2 trainers certified by the Academy and having a great experience of network engineering and service.
Programmes
At present the Academy provides training in 2 programmes:
A Cisco sertified network specialist
The basic concepts of IT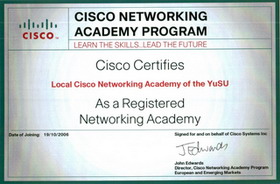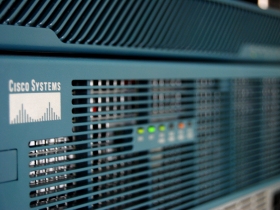 Feel free to contact our International Cooperation Office to share your enquiry or to reach any of the university's deparment.