YUSU AT VI INTERNATIONAL IT FORUM
As we announced earlier, the VI International IT forum was held in Khanty-Mansiysk. Yugra State University was an active participant of the event.

---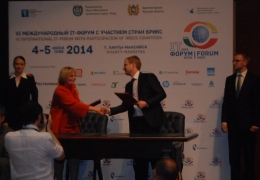 The
VI international IT forum
with the participation of the BRICS countries is an impotant event for our country. Yugra State University and its rector Tatiana Karminskaya took part in the forum.
One of the major achievements of our university in the forum was signing the agreement between the university and
Yugra research institute of IT
on the creation of a new Chair in our university.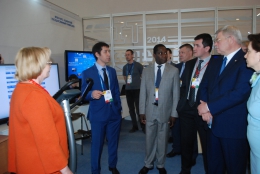 The Governor of Yugra region, the Governor of Tomsk region and the representatives of the BRICS countries visited the display stand of our university at the forum.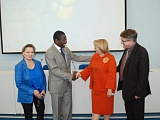 The Council of Benin in Russia Aniset Gabriel Kochofa visited the university and had an unofficial meeting with our students. His most memorable words were about studying and being the patriots of your motherland.
The Council, an oil-industry worker by speciality, has been living in Russia for 25 years so far. He didn't know much abour the Siviet Union when he came to study here. He is now married, with 2 children, and his wife is from Krasnodar. He had a long story of adaptation in Russia, but finally he loved the country and the people and developed his career in connection with our country.